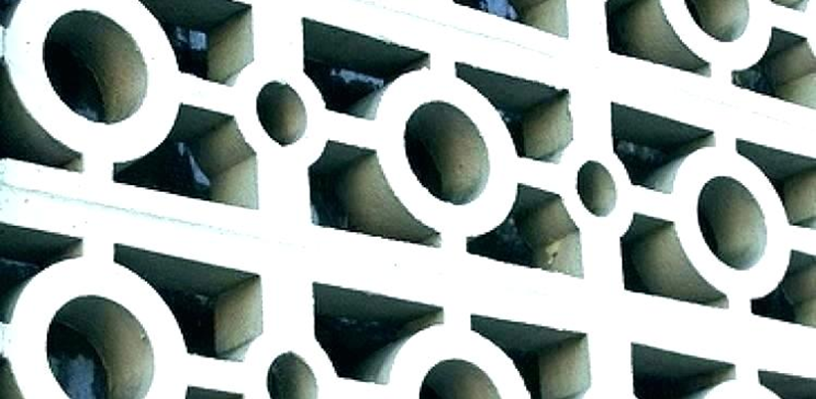 First, the graphic.  Ornamental cinderblock that reminds me of home.  My family's 1960s house in suburban Southern California had the stuff all over the place, and it was meant to look modern.  It still reminds me of that house where we lived.
I've been thinking about Christmas Eve, and will say more about it in Sunday's sermon.  Not so much the nativity account in Luke's gospel, but the ways we remember and celebrate Christmas Eve in the church.  This coming Tuesday may be my last time leading a Christmas Eve worship service.  By rough count I think I may have attended nearly a hundred Christmas Eve services of various sorts and I have led or helped lead around 75 of those services.  That's a lot of Christmas Eve experience.  I have an idea of who's going to show up on Tuesday and what to expect from them.
I don't remember much if anything about Christmas Eve, 1969 – fifty Christmas Eves ago, except that I am pretty sure I went to the worship service at our church with whichever of my brothers and sisters my parents could persuade or coerce to join them, and that I must have been more confused that Christmas Eve than I have been any Christmas Eve since.
Fall, 1969, was the fall of my first year in college.  College was 500 miles from home and I was mostly just as glad that it was, though it had been a lonely first quarter being so far from friends and familiar places.
As I hauled my suitcase past the ornamental block wall and into that modern looking house that Christmas homecoming fifty years ago, I entered a world of confusion and chaos.  The stories are not mine to tell or should not be told here, but suffice it to say that all the confusion of the 1969 world on the other side of that ornamental wall had met the chaos of a family of seven kids ages seven to 22 being raised in a world where the previous ten years had brought as much change – in our family and in the world – as maybe any ten year period possibly could. No set of parents, and certainly not mine, could have known exactly what to do.
Home was a familiar, but not a particularly welcoming or emotionally safe place to be.  Or so it seemed to me.
I don't remember a thing about Christmas Eve worship in 1969 except that we would have been there because we always were.  No doubt about it.
Our pastor was not much gifted as a preacher, but the story of shepherds and angels and a manger bed would have been told  one way or another.  Maybe one of my younger brothers was dressed up as a shepherd. I don't remember.  Who knows, we may have heard Simon and Garfunkel's Silent Night being broadcast on our car's AM radio on the short drive home after worship.
I don't remember a thing about Christmas Eve worship in 1969, except that I would have been there, and I would have listened as the Christmas story was told. I would not have been sure what it all meant to my world with its confusion and chaos and with a loneliness about which I was not sure what I would do.
I know for sure that Christmas Eve, 1969 – fifty Christmas Eves ago, was the last Christmas Eve when the message of good news of a great joy did not make all sorts of sense and define how I would live in a world of confusion and chaos from then on.
I'll be talking more about what happened January 1970 – fifty Januaries ago, in my January 5, 2020 sermon.
See you Sunday
It would not be until late 1970 that I met Mark Galli in the college fellowship group at the Presbyterian church in our college town.  He's remained a friend all these years and is now about to retire as Editor in Chief at Christianity Today magazine.  Mark wrote what may be his last editorial yesterday and it will undoubtedly be his most remembered.  You may have heard about it. The President of the United States has heard about it and tweeted an unkind and ridiculously inaccurate tweet about it. I would encourage you to read it, and, whether you agree with him or not, know that Mark is a wise brother in the faith whose wisdom should not be easily dismissed.