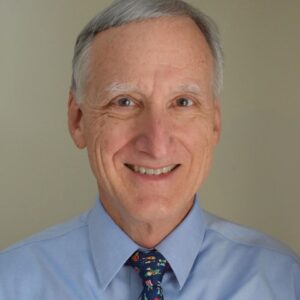 I am a pastor in the Evangelical Presbyterian Church.  My wife Becky and I retired to Auburn, Indiana, in 2020 after 45 years of full-time ministry including service from California to Oregon to Michigan to Pennsylvania.
I received my undergraduate degree in American History from the University of California at Santa Cruz and an M.Div. from Union Theological Seminary in Virginia.
God has blessed my life in so many ways, and no more deeply than in the gift of my wife, Becky, our three children, three children-in-law and nine wonderful grandchildren.
I came to faith in Jesus Christ in an unremarkable way. I was baptized as an infant and raised by parents and nurtured by a congregation who took their baptismal vows seriously. I was confirmed as a fourteen-year old, giving "as much as I knew about myself to as much as I knew about God." I came to know much more about myself and God during my college years, in particular, and have been coming to know Christ more deeply ever since.
The highest privilege, most serious responsibility, and greatest joy in ministry has been the teaching and preaching of God's Word as found in the the pages of Scripture, a Word that has transformed lives and continues to turn our world upside down.
During my years of ministry God has led me to some pretty amazing places and has allowed me to do some pretty remarkable things. Nothing has had a greater impact on me than being involved in the mission of the church in North Philadelphia, Guatemala, and, especially Brazil.
To the glory of God alone,
Bill Teague