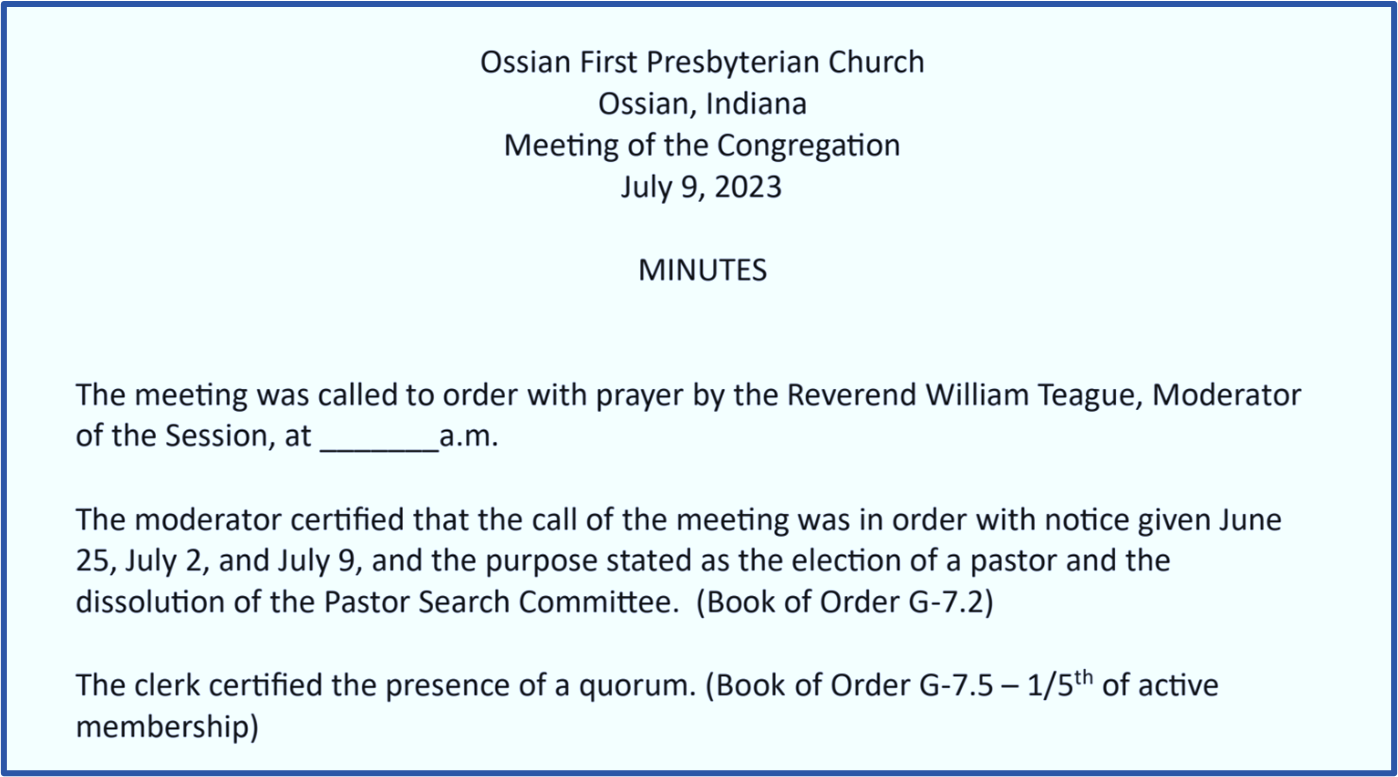 The minutes of Sunday's meeting of the congregation have already been written. They show the call to the new pastor being approved and the meeting closed with prayer and thanksgiving to God.
Before any stated clerks, church polity wonks, or parliamentarians among you get too anxious or begin to file charges against me, let me explain.
The church I have been serving during a season between pastors is now ready to call a new pastor. This is a very good thing, and we perceive God's gracious hand in bringing a wonderful candidate to what Becky and I have grown to know and love as a wonderful congregation.
Presbyterians like to say of ourselves that "we do everything decently and in order." The phrase is mostly used self-mockingly and usually evokes a sense of mild (or forced) amusement when said at a presbytery meeting. In fact, the phrase comes from the Bible in Paul's first letter to the Corinthians and at the end of a long discussion about the right and the wrong way to worship. Having reminded his readers that God is not a God of confusion but of peace, he writes, "All things should be done decently and in order."  1 Corinthians 14:40 (ESV)
We Presbyterians need not mock ourselves for seeking to do all things decently and in order. We have tended to get into trouble when we have ignored the Apostle's admonition and our self-understanding. Thank God for all things done decently and in order.
So, I have written a set of minutes to guide my moderating of the meeting of the congregation and the clerk's reporting of what happened. If things don't go the way the minutes anticipate them going, the minutes will be changed. I promise.
Presbyterians of all stripes have books of church order and policies and procedures designed to keep us from disorder, confusion, and polity indecency. And, to be sure, there are pharisees among us who seem more concerned with jots and tittles than decency and order. I think I have sometimes been among them.
The point of having procedures properly followed and minutes rightly taken, though, is not wonkish micromanagement or pharisaical hypocrisy. It is a response to the reality that the sovereign Lord of the universe chooses to use very fallible humans and their institutions to accomplish his gracious purposes. Amazing.
Yes, we mean to cross every t and dot every i.  But the point is not to have some minutes review committee declare no exceptions (in fact, we have such things and they declare such things – perhaps we are due a little bit of self-mockery).  The point is to be about the work God has given us to build the Church and spread the Good News.
I plan to close the meeting (after a motion to adjourn has been made, seconded, and carried) with these words from Psalm 126:
Then our mouth was filled with laughter,
and our tongue with shouts of joy;
then they said among the nations,
"The LORD has done great things for them."
The LORD has done great things for us;
we are glad. (ESV)
The minutes will not show it, but even now I am pretty sure the people of Ossian First Presbyterian Church will leave the meeting with much gladness for the great things God has done and is doing for them.