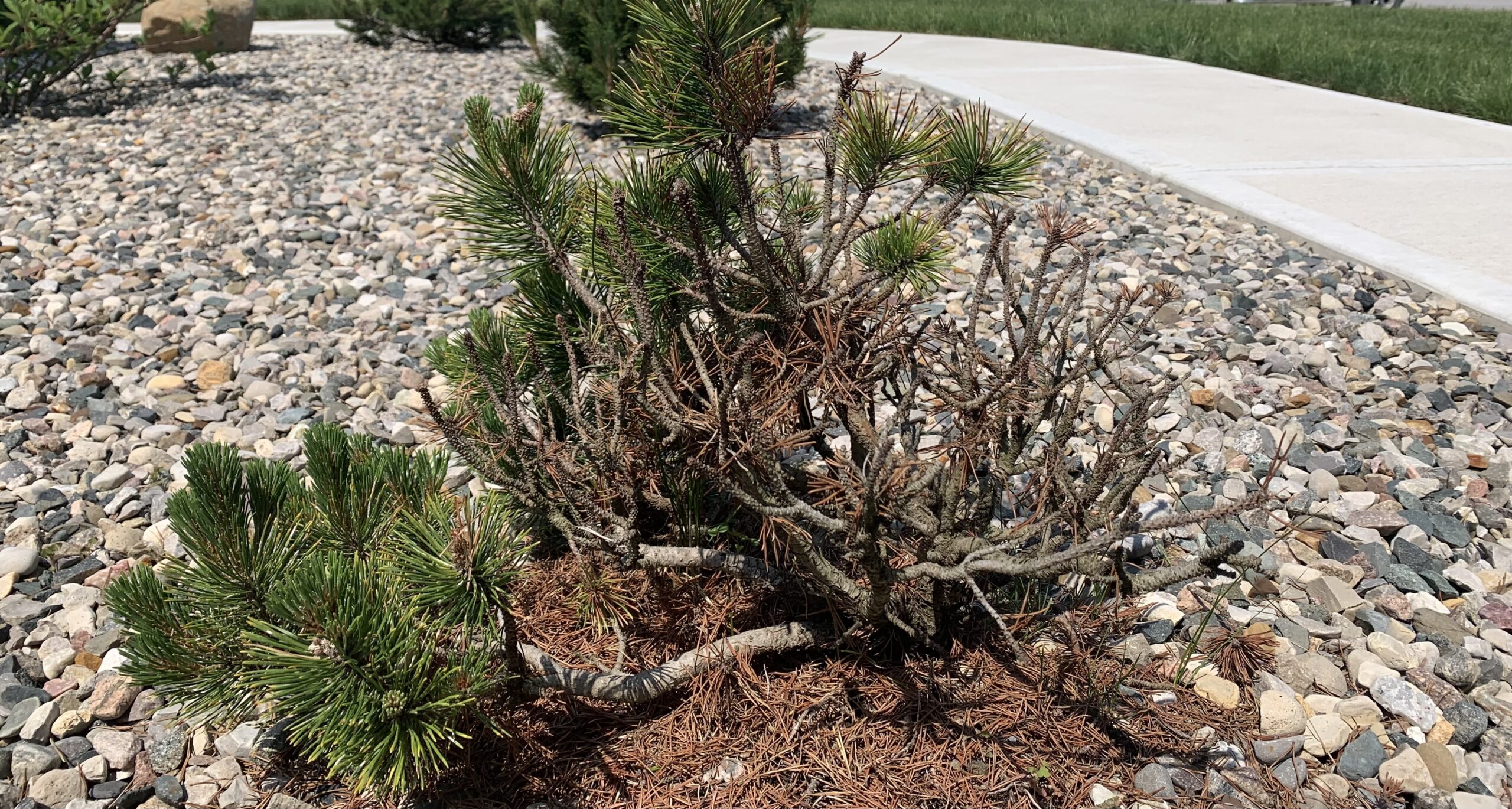 Not long after moving into our house, we had some Mugo pines planted in a landscape area near the front door.  A Mugo is a shrub conifer, and the experts say they grow well almost anywhere.  Three of the four Mugos are thriving, but the fourth has had a hard time of it. Poor Mugo #4 is half dead, that is, half of its branches are dry and brittle with a bed of brown needles at their feet.  The other branches are filled with lush green needles and lots of new growth.  I have named our fourth Mugo Sardis.  Sardis the Mugo.
Sardis the Mugo's namesake, of course, is the church in Sardis addressed by Jesus in Revelation 3:1-6.
Jesus tells Sardis the church, "You have the reputation of being alive, but you are dead." He advises the people of Sardis to "wake up and strengthen what remains and is about to die."  Despite the dire warning, the Lord offers hope to those in Sardis whose faith is still alive: they are to remember and live the Gospel. "They will walk with me in white," he says, "for they are worthy. The one who conquers will be clothed thus in white garments, and I will never blot his name out of the book of life."
We haven't decided what to do with Sardis the Mugo.  Is it possible to strengthen what remains, those healthy green branches and with their lush spring growth? Might new branches some day balance Sardis' decidedly off-balance profile?  Or should we yank Sardis the Mugo from its place in the landscaping area to be replaced by another Mugo or some other shrub?  If we decide on a new Mugo, I suppose we'd name it Pergamum.
Jesus' patience with the church in Sardis is an encouraging sign for those of us, the majority of us, in half-dead churches.  Maybe we should commission signs that read "Wake Up and Strengthen What Remains" to be hung in our sanctuaries and fellowship halls as a reminder of our precarious situation.  We would do well, also, to remember Jesus' promise to the faithful that we are worthy and will walk with him in white.
We haven't decided what to do with Sardis the Mugo. Replacing Sardis with Pergamum (we'd have to ask the nursery worker if they have a Pergamum Mugo in stock) might be the most practical and logical thing to do.  But I kind of like the idea of an off-balance Sardis the Mugo reminding us of Jesus' faithfulness every time we go in or out the front door.
So, at least for a while longer, I think Sardis the Mugo will be around to greet us when we come home and bid us farewell when we leave.  Someday, though, Pergamum may show up and claim Sardis' spot in that landscape area.