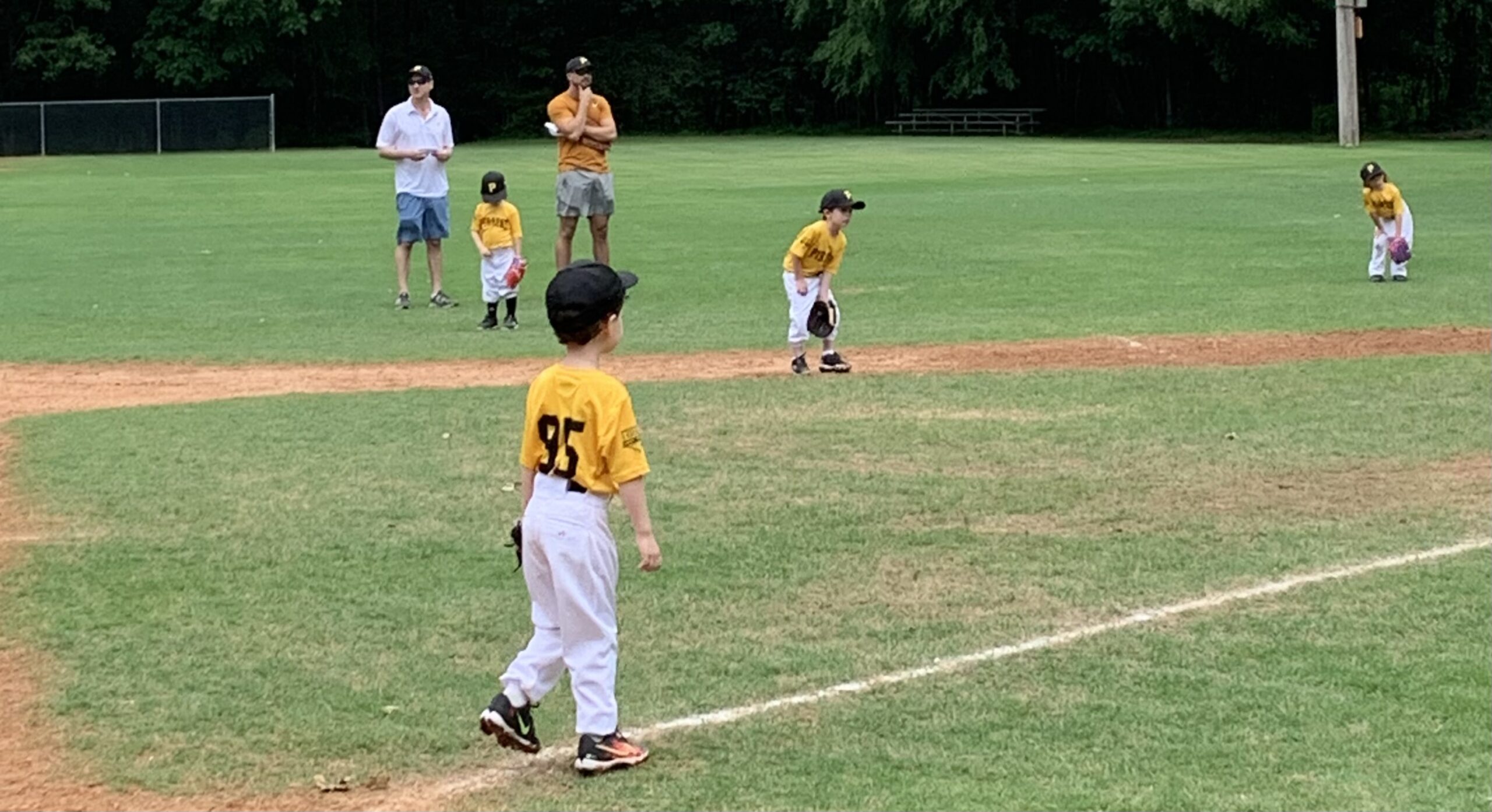 Becky and I were off visiting family this past weekend, specifically our daughter, son-in-law, and five-year-old grandson in Memphis. In addition to the celebration of Mother's Day (the five-year-old gave Becky a really nice LEGO set), the highlight of the trip was Saturday's t-ball game. Yes, it was shortened by a passing Memphis thunderstorm, but an altogether wonderful event, nevertheless.
In this particular t-ball league, all the players on the defensive team are on the field and all the players on the opposing team take their turn at bat. The ball is placed atop and hit from a tee (from the old Scottish teaz, a verb having to do with placing a golf ball on a small mound of sand prior to a drive). The inning is over when all batters have been to the plate once.  No score is kept.  In practice, all the fielders and infielders run after any hit ball and most batters seem to forget that they are to run to first base after getting a hit.  Also forgotten is the practice of dropping their bat at some point along the way to first base.
T-ball players do not have long attention spans.
Every t-ball team has a coach and lots of dads and others who are on the field to discourage a mob from pursuing every hit ball and to encourage batters to head for first base as soon as the ball is hit (and those already on first base to head for second base).
Of course, learning to play t-ball is not the point of a t-ball program.  You don't just get better and better at t-ball. There are no t-ball players over six years old, no professional t-ball leagues.  The point of t-ball is to quit playing t-ball and start playing baseball.  You learn to hold your position and not to chase after every ball.  You remember that after you hit the ball, you drop the bat and run to first base, and those on first base should head for second base.  Baseball is the point of t-ball.
No one expects Aaron Judge to move on from the Yankees to being the best-paid t-baller on the planet.
The point of t-ball isn't t-ball; the point of t-ball is baseball.
Is it too much to say that the point of being a part of a Bible study isn't Bible study?  That the point of prayer isn't prayer?  Or the point of service and good works is not service and good works?  The point of Christian practice and discipline is Christ.  It's glorifying God and enjoying him forever.
To be sure, Aaron Judge still works out and spends time in a batting cage.  He warms up and participates in fielding drills.  He has to earn his $360 million.  Christians never give up on Bible study or prayer, service and good works.  We don't earn our salvation, but we seek to grow in grace.
Sometimes, though, it seems that we don't get much beyond t-ball church. The mob still runs after every fad. Our attention spans are short. We forget about running to first base and are distracted by the dandelions growing in the outfield. We think being nice (or happy or rich or working for social causes) rather than following Christ is the point of discipleship.
Our grandson is eligible for one more year of t-ball after this season is over.  Then he will move on to (coach-pitched) baseball.  After all, baseball is the point of t-ball.
Maybe we Christians need to move on from being busy to being Jesus' disciples, from niceness to glorifying God and enjoying him forever.