Is more likely than a white Christmas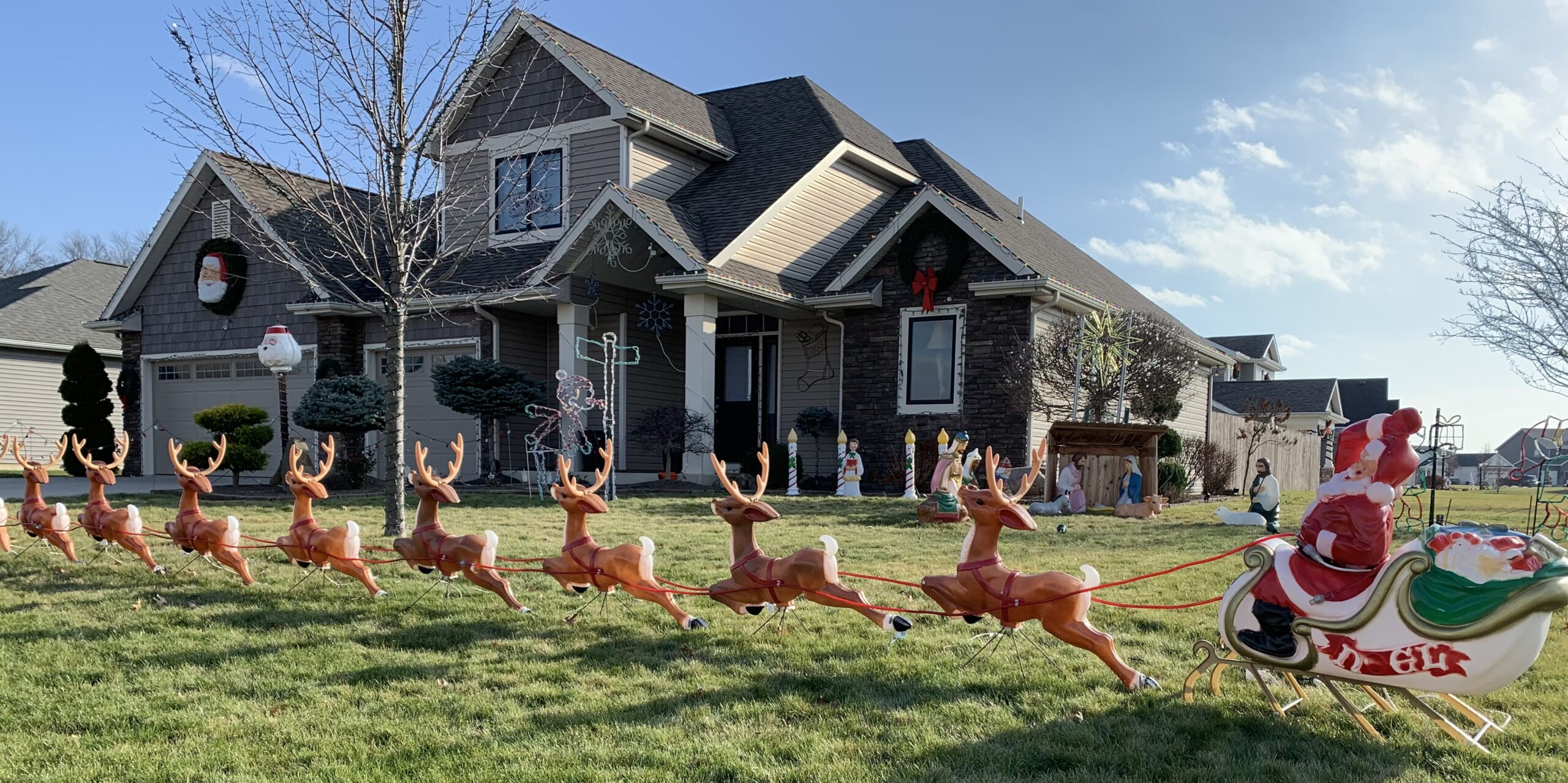 According to the National Weather Service, we have about a 39% chance of a white Christmas in Auburn, Indiana. The NWS defines a white Christmas as one with a snowfall of an inch or more. We'll see.
In the meantime, we have a 100% chance of a schizophrenic Christmas. I define a schizophrenic Christmas as one where it is not clear at all what in the world we are celebrating.
Of course, a schizophrenic Christmas is nothing new. The first schizophrenic Christmas may have taken place in Rome sometime during the Fourth Century when newly converted pagans started celebrating the birth of Jesus instead of the Saturnalia, all the while keeping their favorite traditions of the pagan holiday. In the Twenty-first Century newly converted pagans enjoy something more akin to the Saturnalia, all the while keeping their favorite traditions of the Christian holiday.
We see it all the time.
I absolutely love our neighborhood's best lawn display of Christmas lights. The owners do everything themselves; it's not paid a service or a computer generated show.  Thank you!
The best display of lights in our neighborhood is quite schizophrenic, however.  I think the best feature may be Santa Claus attempting a slam dunk on the driveway basketball hoop. There's also Santa in his miniature sleigh pulled by eight tiny reindeer.  Rudolph with his nose so bright has the lead, so I don't know if it's Dasher, Dancer, Prancer, Vixen, Comet, Cupid, Donner, or Blitzen who has been given the night off.
But if you look carefully at the photo in the header, you will see Mary and Joseph and the Babe wrapped in swaddling clothes in the background with a shepherd keeping watch over his flock by night off to one side.
What in the world are we celebrating? Christmas with a touch of Saturnalia or Saturnalia with a touch of Christmas?
Of course, this is nothing new, and I am not a Battle for Christmas partisan. It is what it is, and there is a good likelihood that the Saturnalia will win (or has won) the battle, at least in the public square.
It is important, however, to keep the Saturnalia and other distractions out of the church as we celebrate the birth of the newborn King. It may be easier said than done.
It's those other distractions I have been thinking about as Christmas approaches. Should we ban all non-Biblical elements in our Christmas celebration? Should the Little Drummer Boy be asked to leave our nativity scenes, pa rum pum pum pum?  Should we issue a disclaimer before the Sunday School Christmas program reminding everyone that there was no kind innkeeper – or friendly beasts, for that matter?
Maybe we should quit singing "It Came Upon a Midnight Clear" with its lack of reference to Jesus and its mid-Eighteenth-Century Unitarian themes.  Should someone point out that the little Lord Jesus mostly like did make crying? And what about those awful pictures of Santa kneeling at the manger?
Perhaps we should join our Puritan ancestors in eschewing a Christmas celebration altogether.
Our schizophrenic Christmas.There's a 100% chance. As for me, I am looking forward to some good eggnog.