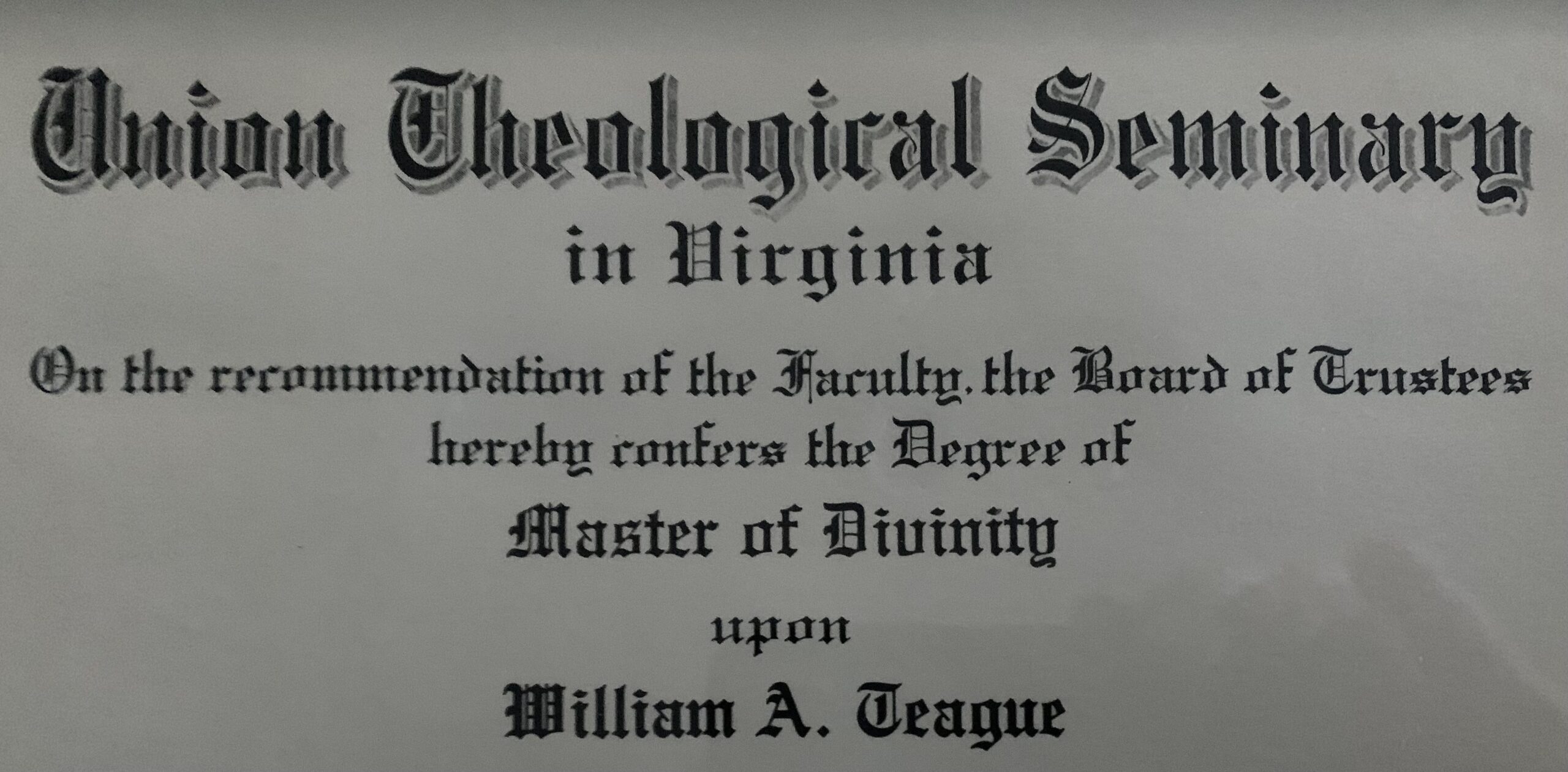 Becky and I will be at a graduation ceremony tomorrow and are glad to be able to celebrate with the graduate and his family.
The degree to be granted is a Master of Divinity, an MDiv, the professional degree required for ordination in our denomination and many others.  An MDiv is no slouch of a degree. It typically takes three or four years to earn and requires learning and using Biblical Greek and Hebrew.  Along with biblical exegesis and systematic theology, students must take courses in preaching and counseling and church leadership.  I may be biased, but I think those who earn an MDiv have done some impressive work.
Our friend, no surprise, has proven to be an exceedingly able student and we will celebrate his success.  And more than most graduations I have attended, this one really does feel like a commencement, a beginning.  Our friend has been doing full-time ministry and still must pass a series of ordination exams, but this event seems to be a particularly significant – even ominous – marker.  If there was any doubt about God's call to ministry and his claim on our friend's life, this event seems to dispel it.
I happen to think our friend is not only now well-equipped academically for ministry, but he is also spiritually gifted and emotionally and relationally exceedingly able for what lies ahead.
Congratulations, good friend.
As I have been thinking about Saturday's graduation the degree to be conferred – and which I also hold – it struck me as particularly odd. A Master of Divinity.  Let me say from the outset that I know the number three or four definition of divinity in the dictionary.  It can mean theology or the study of theology.  If you go to Yale to prepare for ministry, you go to a school of divinity.  In fact, our friend's seminary, not Yale, is called a school of divinity.
But think about the first definitions of the two words.  Master as a verb is to conquer or overcome, as a noun it is one with control or power.  Divinity in common understanding means god or godlike. What an audacious idea to be a master of divinity. Who would be so foolish as to think they might master god or control godlikeness. I have the degree, but I am, for sure, no master of divinity, try as I might.
Our friend is a very good scholar and is well-gifted in so many ways for the life of ordained ministry he will begin in due time. He will need, however, as every good pastor does, a double dose of humility, lest he think he might somehow be a master of divinity.  "I don't know" and "I might be wrong" will be important phrases in his external and internal vocabulary as he confidently brings God's Word and God's love to God's people. His delight will be in glory given God, not in adulation given the pastor. He should be nervous when he takes to the pulpit and content when he is setting up chairs in the fellowship hall.  Humility will remind him "so are you" when is he tempted to think of a member of his congregation or an acquaintance in the community as being particularly difficult.
On Saturday we are going to celebrate our friend's accomplishment as he earns his degree. We are going to thank God for our friendship, and we are going to pray for our friend and for his wife and family as they take a momentous step into the future.  I am going to pray that my good friend never entertains the idea that he might ever be a master of divinity.