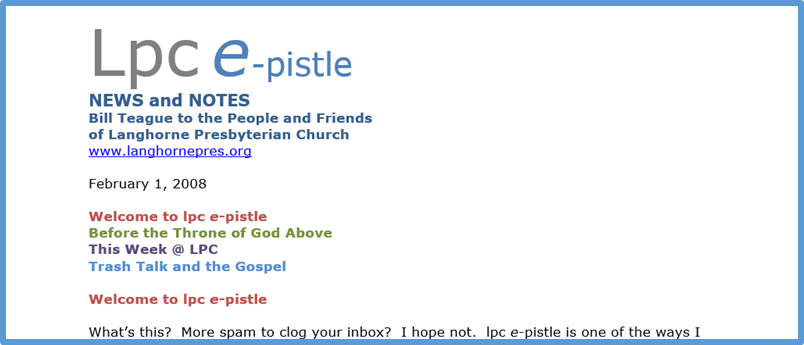 Final edition – LPC people, you will receive an email or two from me next week with some details and logistics having to do with transition, but this is the last, the final edition, of the LPC E-pistle.
In case you haven't heard, I'm retiring.
As the screenshot in the header indicates, the first edition of what would be a mostly-weekly missive began the first week in February, 2008, my first week at LPC.  And because it always makes for a good story, I can tell you some people told me I couldn't do it.  "We already have a monthly newsletter," they said.  "People won't read it," they insisted. So I did it.
"News and Notes," it said. That's pretty much been the formula ever since.  Some highlights of things going on in the church and then my notes.  "Pastor Bill's comments on faith, life, and the world," the current version says.
Some thoughts on this final edition:
The name, e-pistle.  In fact, the LPC E-pistle is the second rendition of such a thing. I had been sending an e-pistle to the people of Park Presbyterian Church for nearly a decade prior to our arrival in Langhorne.  In 1998 many of us thought ourselves quite clever when we added an "e" to things done online. We're still stuck with e-filing our taxes and driving down the Turnpike with our E-Z Pass.
E-pistles almost always arrive on Fridays.  Sure, a good day for promoting a Saturday Men's Breakfast or a reminder about things happening at the church on Sunday.  But mostly it had to do with Friday being my day off.  I wanted to be able to say that if someone didn't like what I wrote – I received a few comments over the years – it was written on my time, not yours.
I've loved Friday mornings.  A cup of coffee, at home with Becky, some household chores to do, and happily writing whatever I felt like writing, as often as not, waking up on Friday morning wondering what words I might want to share with the congregation and others. In a world of talking and writing heads, I have tried to avoid comments on things about which I know little or of which too many people have already spoken.  So it might be an irony or a connection to the gospel too flimsy to make a sermon but somehow interesting to me.
WWW.  In addition to an email sent to the congregation that includes the "news" part of "news and notes," I've posted the "notes" part to the web and shared the link via social media.  Oh, my readership is very small. But it is very important to me.  I take great joy when a late fifty- or early sixty-something who was a member of the youth group when I was youth director likes or comments on what I said. Or a Brazilian or a  Guatemalan. Or somebody way far north in the Upper Peninsula of Michigan. It's a reminder of God's goodness in connecting us to one another across time and geography in the Body of Christ.
Movin' On.  This really is the last in a line of 20 years' worth of e-pistles.  I'm pulling the plug when this one is sent.  But I am going to keep writing.  It's something I like to do.  Several years ago, I bought my own domain, the current online home of the E-pistle, billteague.online. Becky created the site, and we're taking it with us.  I will be posting there from time to time, maybe every Friday morning.
LPC people, we'll be seeing some of you at the drive-by on Sunday.  I'll be in touch via email early next week.
But for now, so long, E-pistle.  It's been fun.