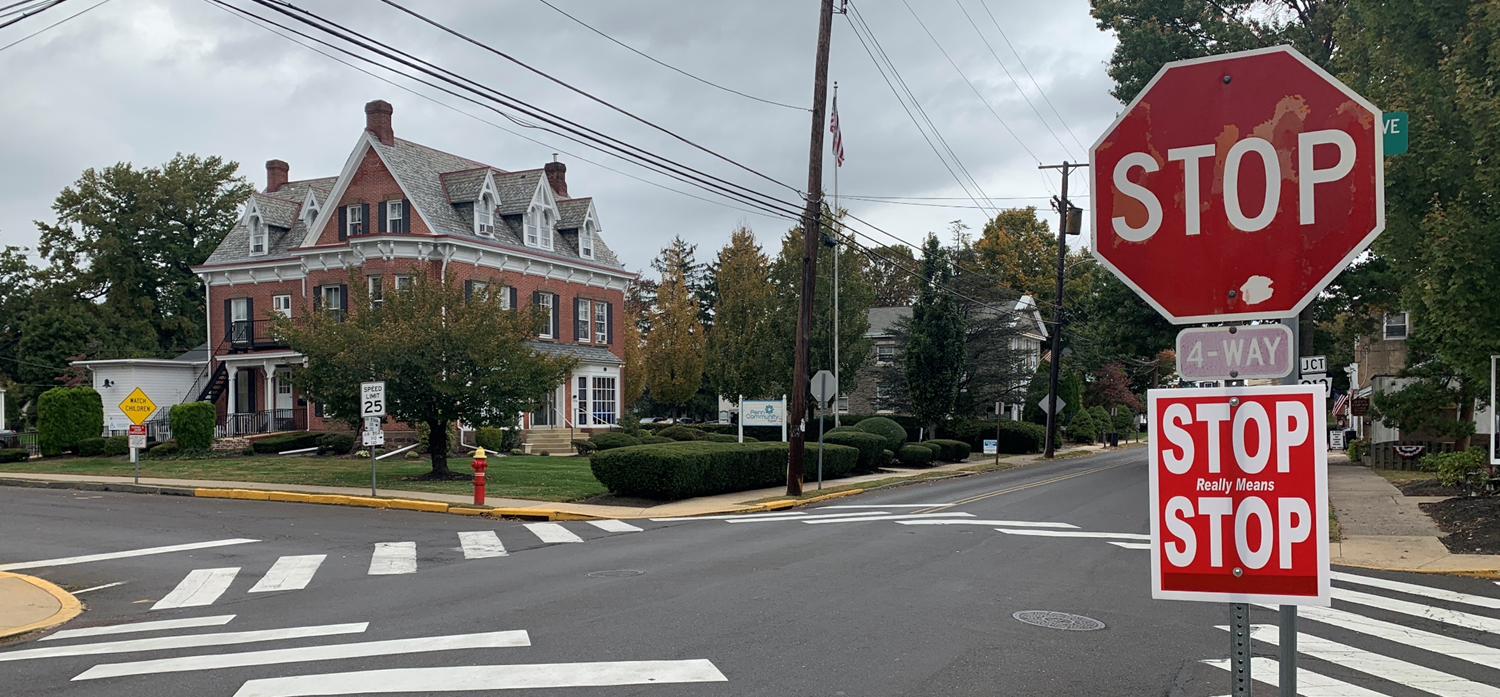 Becky and I are out of town this weekend – a little fall getaway into New England.  In the meantime:
 
One Sunday a long time ago I used the intersection of Bellevue and Richardson Avenues as a sermon illustration.  The point had something to do with obedience with that corner in Langhorne as a good example of not-quite obedience.  The Bellevue and Richardson intersection is one of those places where we tend to roll through rather than come to a complete stop.  I remember at the time of the sermon a number of people shared their own Bellevue and Richardson stories or nominated other intersections as places of even worse offense. The point of the illustration was that a lot of us live roll through Christian lives.
 
Some of you may have seen the new sign that's been posted just below the stop sign at the southeast corner of the intersection the Bellevue and Richardson.  "Stop Really Means Stop," it shouts at us as we pass the First National Bank. 
 
The Really Means Stop sign is professionally made and well mounted – by the borough or the police or the vigilantes, I don't know. 
 
While I applaud the intentions of those who have posted the sign, I wonder what good it will do.  It reminds me the irate parent in Walmart yelling at a child three aisles away.  "Come here right now! I'm going to give you to three. One, two, two and a half…" 
 
Does the nagging spouse ever get the other to lose weight or exercise or quit drinking? Does the lunch room become neater when the nagging boss sends memos about it being everyone's responsibility? Do people quit drinking coffee in the this or that room in the church when the elders forbid such sin and post signs to remind us so? (Ouch!)
 
Except around eight in the morning or five in the afternoon, the intersection of Bellevue and Richardson in Langhorne is pretty quiet, and chances are a roll through stop will work just fine.  Once in a while, though, you'll roll through to a nasty little fender bender.  Even if you're pretty sure all's clear, you might as well stop anyway. Just because that red octagonal sign says so. 
 
Chances are that when we roll through some of the Ten Commandments, everything will seem to be just fine.  A white lie, a tiny covet, a not very vain taking of the Lord's name, a slight dishonoring of parents, a small graven image. Roll through violations may have surprising consequences, though, if in no other way than in our boldness to roll a little faster next time. But even when we're pretty sure all's clear, we might as well obey the Word anyway.  Just because God says so, and he loves us. 
 
I won't see you this Sunday, but if you come to worship driving south on Bellevue, remember stop means really stop when you get to the intersection with Richardson Avenue.