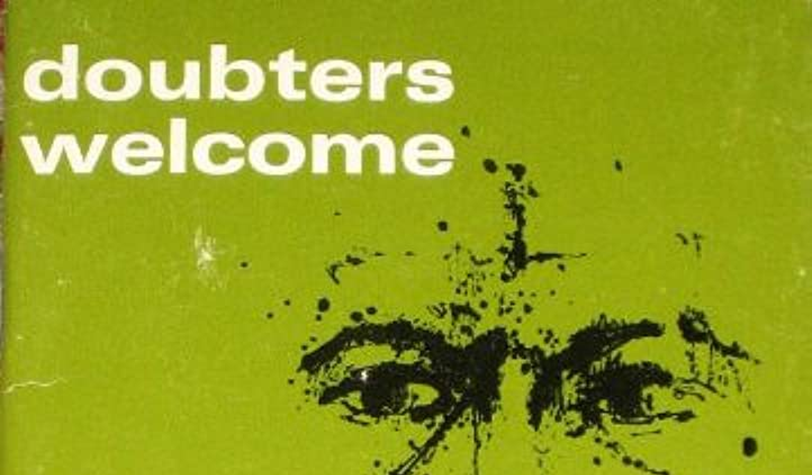 I will not be alone in preaching the story of Doubting Thomas this coming Sunday.  The episode from John 20 is the Gospel text for the day in the Common Lectionary, and it is the "one week later" narrative often used the Sunday after Easter.  Thomas will be preached from many pulpits this Sunday.
You remember the story.  Thomas misses the Easter evening gathering of the disciples when the risen Jesus appears to them. Thomas shows up later, and the other disciples tell him they have seen the Lord. But Thomas says to his friends, "unless I see the mark of the nails in his hands and put my finger in the mark of the nails and my hand in his side, I will not believe."
Jesus returns in a week and offers just the proof Thomas has requested. The best translation for what Jesus tells Thomas is something like, "Do not continue in your unbelief, but believe" (New English Translation).  The New International Version, like others, however, reads, "Stop doubting and believe." The "doubting" translations miss John's play on belief and unbelief, but hence the nickname.
My sermon title is "All In," and I think it captures a sense of Thomas at the end of his one-week-later encounter with Jesus.
Thomas' journey to "all in" takes him through a time of unbelief, doubt, if you will.  It is a brief journey, for unbelief never sustains itself. It soon enough becomes belief in something else if not the object of the original search.
Okay, you can come to Ossian, Indiana, on Sunday if you wish to hear more about All-In Thomas.  I doubt, though, that one sermon preached in Ossian, Indiana, is going to change our perception of Thomas from Doubting to All-In.
Working with the Doubting (All-In) Thomas story, I have remembered a booklet published by InterVarsity Press.  I think I first read "Doubters Welcome" when I was in college. I lost my copy long ago, but the point of the booklet is told in the title, and it has remained with me all these years.  Building on the Thomas story, the little tract observes that Jesus does not scold or shame Thomas for his insistence on being able to see the same thing his friends had seen a week earlier. Jesus welcomes a doubting Thomas, and soon enough Thomas is all in.  "My Lord and my God!" Thomas says.
Doubt has never been a big deal for me; I have never had a crisis of faith or some dark night of the soul. I should count it all grace.  And maybe that grace was mediated through a little booklet titled "Doubters Welcome" that gave me permission to bring before God any questions, even doubts, I might have with no fear of being scolded or shamed.
No more we doubt thee, glorious Prince of life;
life is nought without thee: aid us in our strife;
make us more than conquerors, through thy deathless love:
bring us safe through Jordan to thy home above.
I'm all in.