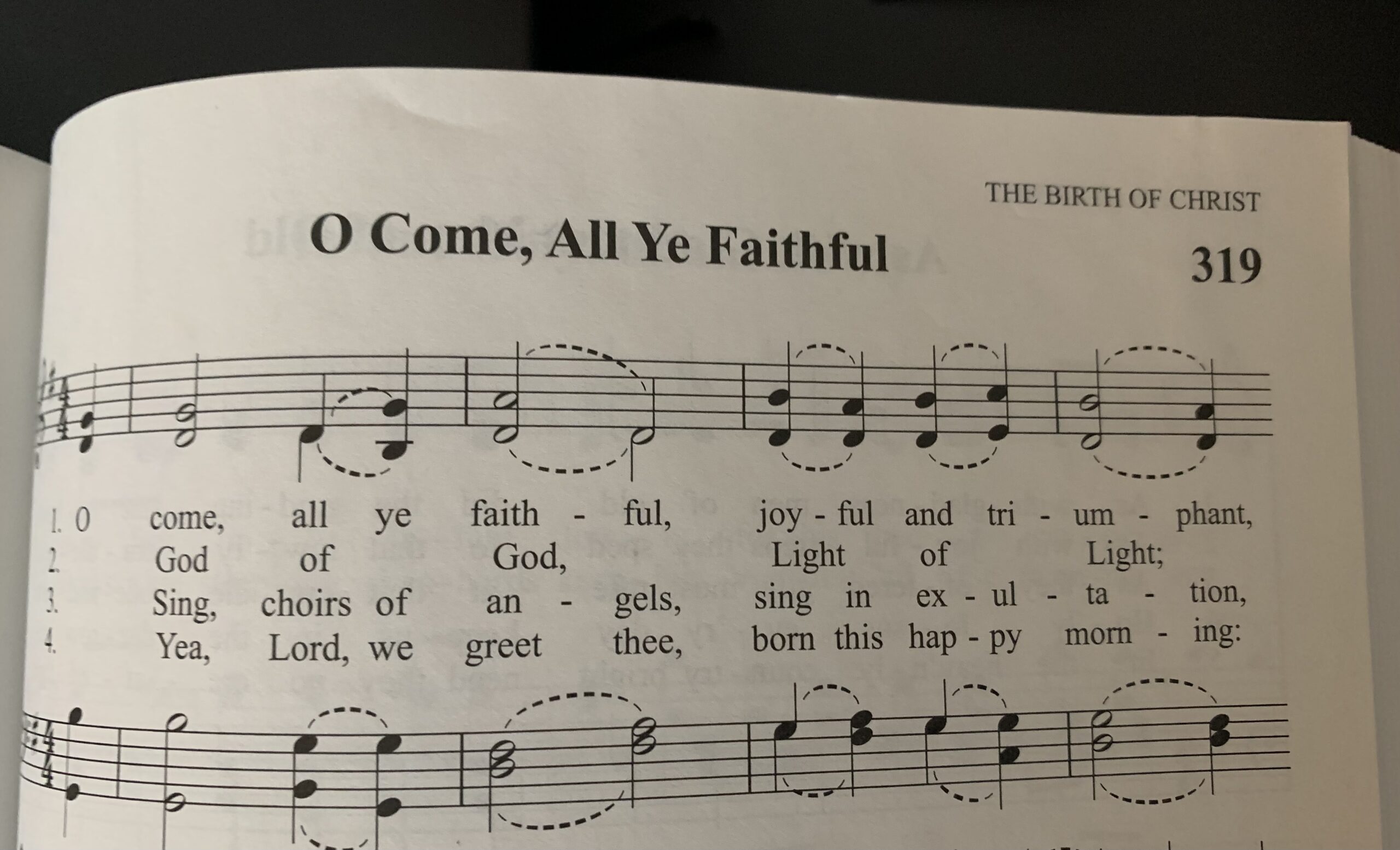 This being the Twelfth Day of Christmas, there's time for one more thought about Christmas. I won't be writing about twelve drummers drumming, however.
I have a confession to make, though not a confession in the sense of an admission of guilt. This confession is more of the "here I stand, I can do no other" sort:
I don't much like the new Christmas song everyone likes.
The Christmas Eve worship service we attended began with the new song. I vaguely remember hearing it last year and it seemed to be everywhere this year, the perfect song for our dystopic times. Intentionally provocative, the song is called "O Come, All Ye Unfaithful," an unapologetic play on the title (and the tune) of the old hymn of similar name.
The song, from Sovereign Grace, first hit the Contemporary Christian Music charts in 2020 and has become ubiquitous. It spoke to a Christmas of lockdowns and now to our post-Covid world.
The song is rooted in the experience of a local Sovereign Grace worship leader who faced the beginning of the Christmas season (we assume 2019) feeling particularly discouraged. She writes, "I was struggling. It had been a long year and a half. Finances were stressful, I miscarried twins, and on top of it I was battling a deep relational bitterness."
Being so discouraged she decided not to join the worship team in leading an early Christmas season service. "I was too overcome with shame to stand on stage before my church. That Sunday morning, I stood at my seat as they began to sing "O Come All Ye Faithful" and the first line of the song just clobbered me. It hit me like a giant wave of guilt. O come all you faithful, joyful and triumphant! I remember hearing those words and thinking, 'I have been so unfaithful. My joy has dwindled, and I am a triumphant…failure.' And I didn't sing the rest of the service."
Read the rest of her story here. And read the lyrics of the song here.
As she drove home from the service, the words that would form the heart of the new song began to come together in her mind: O come, all you unfaithful, Come, weak and unstable.
I get it.  Life can be difficult. We go through seasons of discouragement, sometimes deep discouragement. Christians are not immune to struggle and sorrow. Faith is tested, and at times we feel unfaithful.
But we are called to be faithful. The good and faithful servant enters into the joy of his master. The great cloud of witnesses is populated by the faithful.  The fate of the unfaithful is not to be desired.  "I believe; help my unbelief," the discouraged yet faithful father cries to Jesus.
Sometimes we stand and sing whether we feel like it or not.
In fact, the new Christmas song everyone likes is not a call to the unfaithful, no matter how they feel, but a call to the faithful and the would-be faithful in the midst of their discouragement.  "Christ is born, Christ is born, Christ is born for you," the chorus sings.
I still don't like the new Christmas song everyone likes.  The title is deceptive, a gimmick, liturgical clickbait. It disparages the old for the sake of a me-at-the-center new.
A counterpoint to the Sovereign Grace song comes from a faithful father who knows about sorrow and suffering. Tim Challies is a Christian writer.  Tim's son died a little over two years ago, a college student and athlete, faithful and good. He suffered cardiac arrest of unknown origin during an inter-mural game with friends.  Challies has written a new book, Seasons of Sorrow, about the grief he and his wife continue to experience.
In a Christmas column in Christianity Today (may be behind a paywall), Challies writes about being faithful in the worst of times.
Finding meaning and purpose in your loss is not the same as saying you are no longer deeply brokenhearted over it. I am broken. I am shattered. I am never going to be the man I was before. I still cry constantly. I still haven't gone through a worship service without weeping through the singing. This is my reality. But it doesn't mean I can't say that God has meaning and purpose in it and that I can serve him all the more in these circumstances.
In a companion interview, he says, If we truly believe that God is sovereign, then nothing happens in life that isn't a call to stewardship in some form. Whatever Providence directs has been given by God for a purpose, and our goal is to receive it well, whether that's great talent or lots of money or even things we wouldn't wish—sorrows and losses.
I don't like the new Christmas song everyone likes. Certainly not its gimmicky first line.  Our call has not changed. O come, all ye faithful.