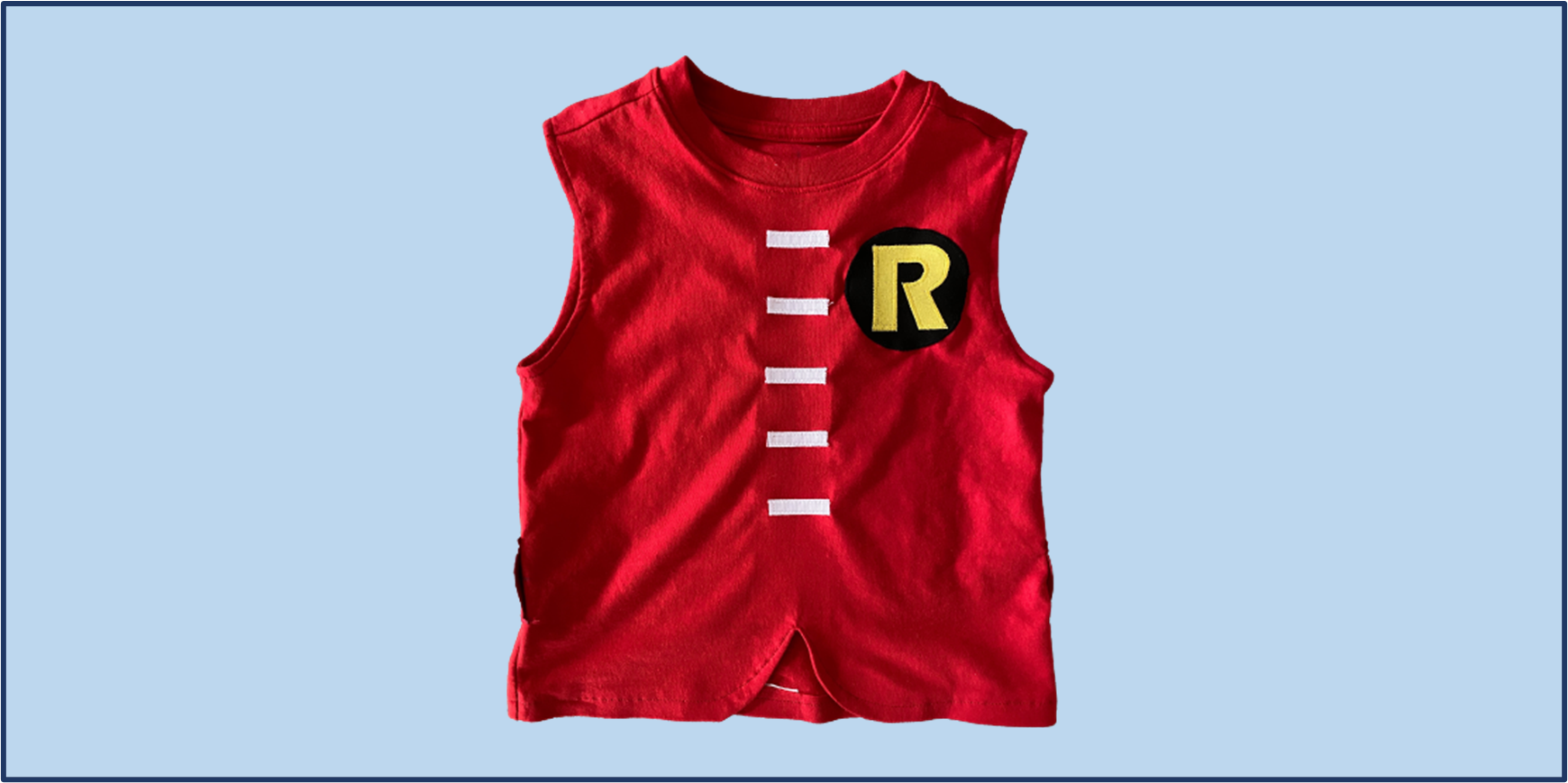 Our four-year old grandson is going through a superheroes phase.  He knows more about the Marvel Avengers and the DC Universe than I will ever know and is patient with us when we miscategorize or misname one of the Avengers or one of the residents of the DC Universe.
He has asked his parents about the likelihood of being bitten by a radioactive spider and becoming a Spiderman-like superhero.  They have told him it is not likely.
For Halloween he has decided to dress up as Robin, Batman's friend, the Boy Wonder. His mom has found the tights and shirt for the Robin costume, but Becky has designed and created the pièce de resistance, the perfect Robin vest.  There will be at least one very proud trick-or-treater in Germantown, Tennessee, this Halloween.
A smart four-year old knows that the world of superheroes is a make-believe world, but still wonders, "what if?" What if that radioactive spider bites him?
Yes, pretend, but when he puts on his Robin costume it is as if he really is the Boy Wonder.  Then bedtime comes and you have to take off your superhero costume and put on your dinosaur pjs.
The Apostle Paul exhorts his friends in Colossae to put on, or, as some translations read, clothe themselves with, virtues including compassionate hearts, kindness, humility, meekness, and patience.  And he adds, "over all these put on love."  (Colossians 3:12-17)
As our grandson makes his way from house to house on Halloween evening, everyone will recognize him as the Boy Wonder.  The "R" on the perfect Robin vest will be a sure giveaway.
When we clothe ourselves with compassionate hearts, kindness, humility, meekness, and patience, it's to be more than a costume, much more than make-believe.  The love we put on over it all is to be more than a superhero's cape.  Yes, clothed with the Colossians 3 virtues, everyone should recognize us as followers of Christ.
At the end of a long night of trick-or-treating, our grandson will come home and take off his Robin costume and then put on his dino pjs.
Having once put on the Colossians 3 virtues and love over all of them, we are to leave them on.  No changing into our dino pjs.
What are you wearing for Trick-or-Treat?