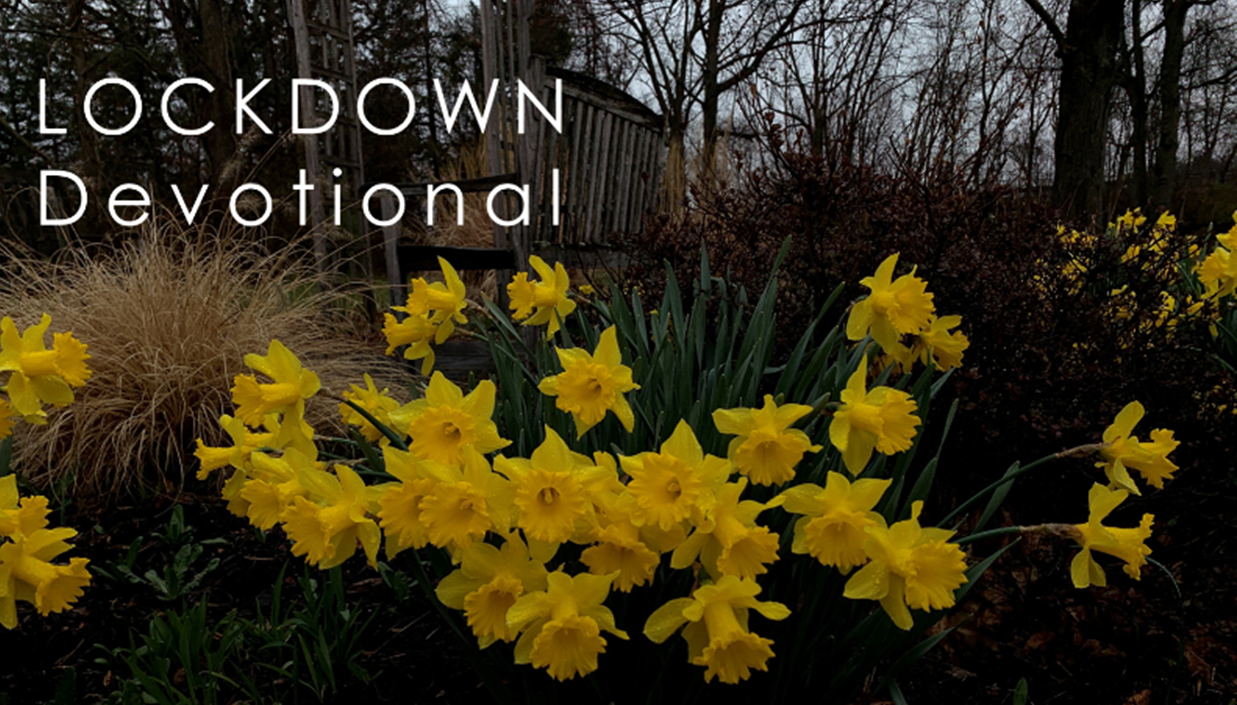 I did not think I had much to add to the various conversations about the two-year anniversary of the Coronavirus epidemic.  It's been a long two years. Enough said.
But then late last week a friend sent me a reminder from two years ago.  It was a photo of daffodils blooming in his suburban Philadelphia yard.  The photo reminded him of a little part of our two years ago experience I had forgotten.  I am glad for the reminder to remember.
Becky and I were still in suburban Philadelphia when the pandemic began. We had about four months to go until my retirement after twelve plus years as pastor at Langhorne Presbyterian Church.  Retirement events were being planned and our house in Indiana was being built.  We had a pretty good idea of how the rest of 2020 would go.  But then Covid came and nothing went the way we thought it would.
Pennsylvania was under a strict lockdown which included a de facto prohibition on selling houses. We had planned on our house going on the market at the end of March. That didn't happen. March 8 was my unintended last day to preach from the pulpit at LPC. On March 12 we announced a suspension of in-person worship for three weeks which would morph into many months. You remember, flatten the curve and all that. At the church we scrambled to figure out how to host Zoom meetings and how to worship God and serve our community remotely.
All of us have stories to tell from two years ago.
My friend reminded me of a little piece of that two years ago time I had forgotten.  On March 17 and for most of the following 91 days, we sent daily emails to our church members. We included what news we had to share, and painfully in those early days, the progress of the virus with one of our dear members.  It would be the first and hardest covid death for our congregation and for me personally.  The heart of that daily email, though, was something we called a "Lockdown Devotional."
I wrote the first devotional – it had to do with Jesus' words from the Sermon on the Mount about anxiety and considering the lilies of the field.  And it included a photo of the daffodils blooming in the churchyard. I invited members of the congregation to contribute their prayers and thoughts for any subsequent Lockdown Devotionals.  The people responded quickly and generously. What an encouragement.
I have reread many of those devotionals over the past few days. Some were based on words from the Scriptures.  Some were photos taken that spring and others were simple and faithful reflections on what was happening in our world.
The pandemic had not yet been politicized in those early weeks of spring two years ago.  We were anxious and scared and needed to be with each other, but that was not possible. So we wrote to each other. We wrote about the suddenly quiet streets of our town and how you could hear the birds singing more clearly.  We mourned the death of our good friend. And we talked about the importance of faith in Christ during times of anxiety and fear.
In time they let realtors go back to work and our house sold quickly. Indiana never banned new home construction, so we had a place to move to. My final sermon to the congregation was delivered via YouTube and we were given a very nice drive-by reception in the church parking lot. You do what you have to do.
It has been a long two years. I am thankful for the reminder to remember the way God's people reached out to each other with faith and in love when we were told we could no longer be together.