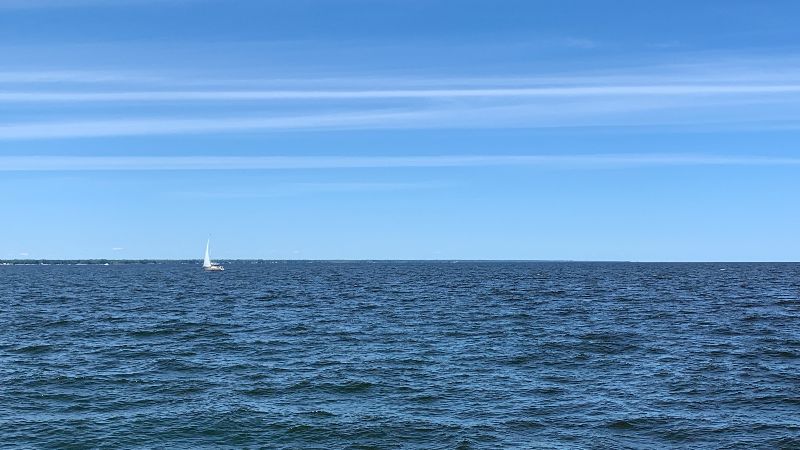 We will be heading to the shore of Lake Michigan today as at least some of our family will gather for a long weekend to celebrate my seventieth birthday, Monday being the actual day.
More than any other, this feels like a milestone birthday.  According to Psalm 90 (printed in full below), traditionally held to be a prayer of Moses, seventy years are what we might expect of life, perhaps eighty "by reason of strength."  Improvement in medicine, nutrition, and technology may have nudged the scale slightly, but Moses' truth still holds.
With the great day approaching, I have read, reread, and meditated on Psalm 90 each day for the past couple of weeks.  John Calvin and Charles Spurgeon were helpful guides as I made my way slowly through Moses' words.  It has been a rewarding experience.
Before I offer some observations on what I may have learned about what being seventy might mean, I should say that though the reality of death figures heavily in Moses' words, the thoughts that came to me in spending an extended time in the psalm were not at all morbid. I am of sound body and clear mind, as far as I know, and I fully expect to use Moses' "by reason of strength" exception to the rule of seventy for another decade of life and hope to apply for an extension beyond that.
The psalm helps me answer the question, "What does it mean to be seventy?" But first, the opening stanza, verses 1 and 2, answers the more important question about who God is.  He is the unchanging God from everlasting to everlasting. As Isaac Watts puts it in his hymn paraphrase, "Before the hills in order stood or earth received her frame, from everlasting Thou art God, to endless years the same." Knowing this about God, verse 2 answers the question about who I am and who the church is.  The Lord is our dwelling place.  He is the one who is with us. Spurgeon reminds us that the living Lord is the "divine home of the faithful." He writes, "Where dwelt our fathers a hundred generations since, there dwell we still." Who am I? Who is the church? We are those given the gift of a divine home.
So, my question, what does it mean to be seventy?  It means I am able to look back and see God's faithfulness to me even as he has been faithful to his elect from everlasting – and will be faithful to everlasting. In God's faithfulness, I met the gospel at an early age.  I have been blessed to have Becky as my loving and faithful wife and good companion and partner for nearly 44 years.  We, in turn, have been blessed with the most wonderful family – by name: Katharine and Ryan, Lena and Ada; Christopher and Katie, Caleb, Esther, Gideon, Lydia, Micah, and Gabriel; Alanna and Jonathan and Theo.  Not to be named, but so loved and of such great worth: good friends from every stop along the way; the church with all its flaws and all its glory.
The next two stanzas of Psalm 90 (verses 3-4 and 5-6) grow somber, reminding us of the reality of death, certainly a reality to consider more frequently as I pass into the "by reason of strength" years.  Moses' images come quickly. We are as dust.  We are swept away as by a flood. We are like grass that flourishes in the morning and withers in the evening.  In the economy of time, our years are so brief to be as a watch in the night. Again, Watts' paraphrase, "A thousand ages in Thy sight are like an evening gone; short as the watch that ends the night before the rising sun."
What does it mean to be seventy? It means that the reality of death cannot be denied, and that the couple of decades or so my insurance company's longevity calculator says I have left will pass quickly.  Not morbid, just real.
The next three verses, 7-9, forming a fourth stanza and into the fifth, are the most difficult for us to hear. Death is more than just the natural order of things. The idea of a circle of life offers little by way of understanding or solace. Death, to borrow Cornelius Plantinga, Jr.'s phrase, is not the way it's supposed to be.  Moses connects death to our iniquities and secret sins, God's anger and his wrath. What comfort in that?  Paul echoes Moses when he tells the Corinthians that we live under the curse of death, that in Adam and by his disobedience all will die.  But then this, "even so in Christ, shall all be made alive" (1 Corinthians 15:21-22). We can know the blessing of life beyond life only when we acknowledge the curse of death that marks this life.
What does it mean to be seventy?  By all normal accounts, I have had a good life. Health, prosperity, family, friends, meaningful work.  Where, then, is God's wrath and anger?  No account of my seventy years would be complete without some reckoning of the grief at loved ones' deaths, confusion at the sudden appearance of deadly disease, hopes dashed and disappointment added to disappointment, friendships broken and faded, promises neglected. The curse has touched my life by things that have happened, and has infected my own thoughts, words, and deeds. By normal accounts we take the good with the bad and hope for some bookkeeping that will put the balance sheet aright.  But in the light of God's faithfulness and grace we must confront our iniquities and sins, God's wrath and his anger. Perhaps that is some of the work of these "by reason of strength" years.
Verse 10 at the end of the fifth stanza is well known: The years of our life are seventy, or even by reason of strength eighty; yet their span is but toil and trouble; they are soon gone, and we fly away.
What does it mean to be seventy?  It means that my allotted years will be soon gone.  Wait!  It is not all sorrow and nothingness.  "And we fly away," Moses adds.  Christians find great hope in that final phrase.  The old gospel hymn tells of how "Some bright morning when this life is over, I'll fly away to that home on God's celestial shore." Facing death, we do not grieve as those who have no hope (1 Thessalonians 4:13).
The final stanza, verses 12-17, counsels wisdom for the living of our days, perhaps especially in the years when we have reached seventy or beyond. We are to number our days and, indeed, the number grows smaller.  But even yet we have the ability to gain wisdom, to find satisfaction, joy, and gladness in God's steadfast love.  We have a witness to bear to our children and grandchildren.  We have a gospel to serve until the end.
What does it mean to be seventy? It means there is still much to do until some bright morning when we fly away.
On Monday I begin my "by reason of strength years."   Spurgeon describes the life of an older Christian in this season: "Mellowed by hallowed experience, and solaced by immortal hopes, the latter days of aged Christians are not so much to be pitied as envied. The sun is setting and the heat of the day is over, but sweet is the calm and cool of the eventide: and the fair day melts away, not into a dark and dreary night, but into a glorious, unclouded, eternal day. The mortal fades to make room for the immortal; the old man falls asleep to wake up in the region of perennial youth. For it is soon cut off, and we fly away. The cable is broken and the vessel sails upon the sea of eternity; the chain is snapped and the eagle mounts to its native air above the clouds."
There is no need to cheat myself out of the joy of the "by reason of strength years" by denying them, by pretending to be forever young as has been the wont of my generation.  I am not forever young. I am glad to be seventy and to begin the adventure of the "by reason of strength" years.
It's going to be a happy birthday.
---

Psalm 90
A Prayer of Moses, the man of God.
1 Lord, you have been our dwelling place
in all generations.
2 Before the mountains were brought forth,
or ever you had formed the earth and the world,
from everlasting to everlasting you are God.
3 You return man to dust
and say, "Return, O children of man!"
4 For a thousand years in your sight
are but as yesterday when it is past,
or as a watch in the night.
5 You sweep them away as with a flood; they are like a dream,
like grass that is renewed in the morning:
6 in the morning it flourishes and is renewed;
in the evening it fades and withers.
7 For we are brought to an end by your anger;
by your wrath we are dismayed.
8 You have set our iniquities before you,
our secret sins in the light of your presence.
9 For all our days pass away under your wrath;
we bring our years to an end like a sigh.
10 The years of our life are seventy,
or even by reason of strength eighty;
yet their span is but toil and trouble;
they are soon gone, and we fly away.
11 Who considers the power of your anger,
and your wrath according to the fear of you?
12 So teach us to number our days
that we may get a heart of wisdom.
13 Return, O LORD! How long?
Have pity on your servants!
14 Satisfy us in the morning with your steadfast love,
that we may rejoice and be glad all our days.
15 Make us glad for as many days as you have afflicted us,
and for as many years as we have seen evil.
16 Let your work be shown to your servants,
and your glorious power to their children.
17 Let the favor of the Lord our God be upon us,
and establish the work of our hands upon us;
yes, establish the work of our hands! (ESV)