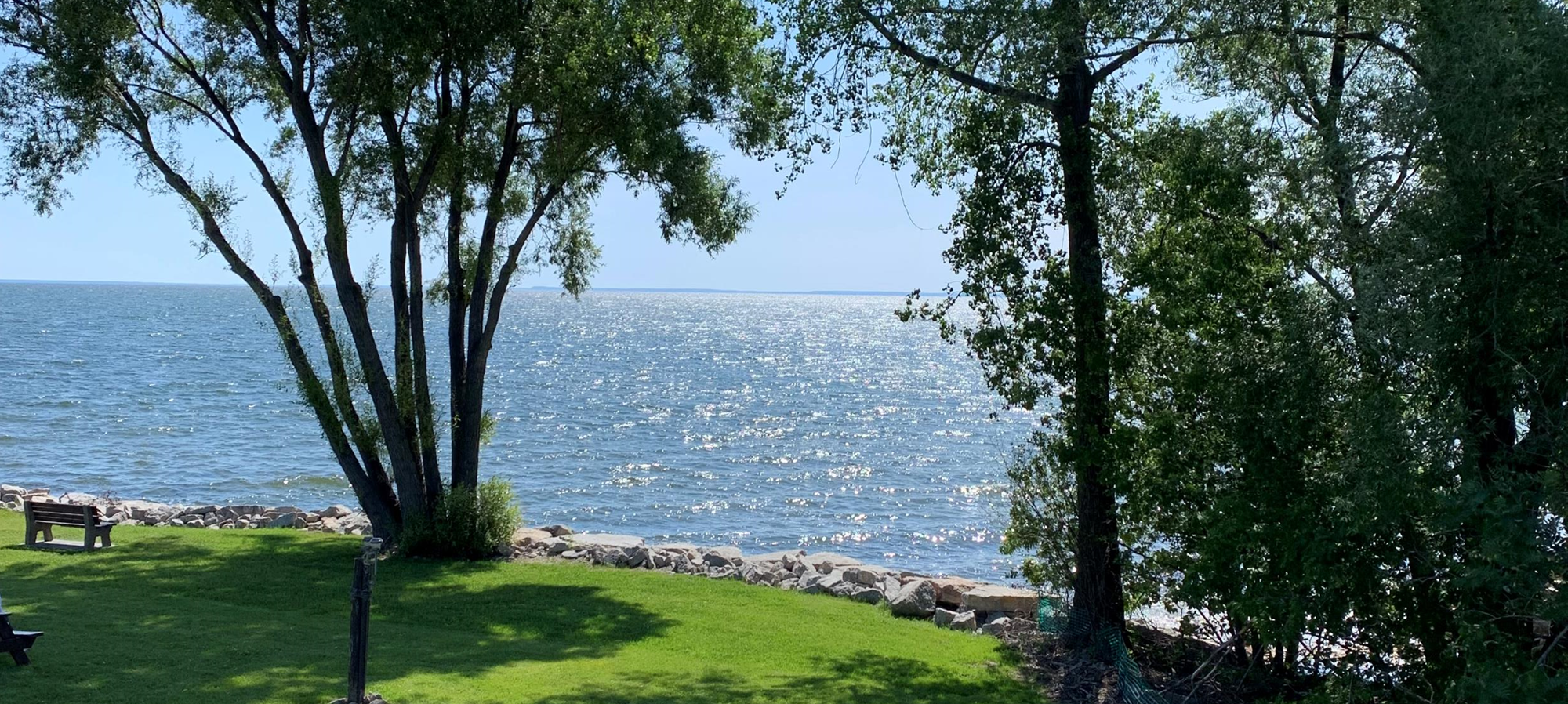 Room with a view, but not perfect,
Becky and I have been road tripping. Sixteen states in the past four months.  All of our children and grandchildren plus some very good friends.  Along the way, we have stayed at a few hotels. Our most recent hotel stay was during our weekend in Menominee, Michigan, on the Upper Peninsula.  Between the two hotels in town, we picked the place Trip Advisor told us would be the best.  It was a good place to stay. Our room had a view of the Green Bay of Lake Michigan. The bed was comfortable, the sheets were clean, and the shower worked.  All we needed.
The first morning of our stay, we had breakfast at what had been one of our favorite restaurants when we lived in Menominee 25 years ago.  We were not disappointed. The omelets were wonderful and the view of the yacht harbor beautiful. Getting ready for church the next morning, we decided to opt for the hotel's breakfast, and were disappointed.  Even by hotel breakfast standards, it was not good. The rehydrated scrambled eggs were soggy and the reheated bacon was limp.  I should have gone for the Raisin Bran. The third morning we hit the road early for our trip home and ate on the way.
A few days after our return home, the hotel sent us a customer satisfaction survey. I don't remember all the questions, but I gave the place mostly sevens and eights on their ten-point scale. Maybe even a ten for the view of the bay.  But I think the breakfast got a five or a six, and I was being kind. Tellingly, when they asked if we'd stay there again if we're ever in town, I said absolutely yes. And I would recommend the hotel to a friend.  It was a good place to stay.
It must have been the five or the six on the breakfast that triggered an automatic response.  A few days later I received this message from the hotel manager: Thank you for your response, we appreciate the feedback after your recent stay at our location. We apologize for anything that was less than perfect for you. If you have any suggestions for us we would be grateful to hear them. We do hope to see you again!
They haven't heard from me yet and probably won't.  What would I say? I mean, the great view and the clean sheets more than made up for the soggy eggs and the limp bacon.
No need to apologize for anything that was less than perfect. We did not expect perfection. Clean sheets and a working shower were enough, and the great view was a bonus.
Voltaire is credited with saying, "Perfect is the enemy of good." Winston Churchill added, "Perfection is the enemy of progress."  We get it. If perfection means flawless, without spot or blemish, we'll always be disappointed. We will find the flaw no matter how minor, the spot or blemish no matter how small.  Seeking a flawless future, we will be stuck in an imperfect present. Lots of places have better breakfasts than the breakfast served at our hotel on the bay. But not perfect; the scrambled eggs may be a little dry, the bacon too crisp, or the toast slightly burned.
But then Jesus goes and tells us we must be perfect as our heavenly Father is perfect (Matthew 5:48).
What? Jesus expects us to be as perfect just as God is perfect?  Count me out. I'll never make it.  I'm a soggy scrambled egg of a person. I'm morally and ethically a limp piece of bacon.  Me perfect?
Maybe we should give up on striving for perfection.  We will never reach it, not this side of heaven.  But what if the journey matters as much as the destination?
John Calvin tells us, "Our sights should naturally be set on the goal of aiming for the perfection which God commands. All our actions should be directed to that end. That, I say, should be our steadfast aim, for it is quite wrong of us to pick and choose where God is concerned, accepting part of what his word commands and omitting all the rest just as we please.  …So let us continue on, making diligent progress in the way of the Lord, and let us not lose heart if we have only a little to show for it. For although our success might be less than we would wish, all is not lost when today surpasses yesterday. Only let us fix our gaze clearly and directly on our goal, trying hard to reach our objective, not fooling ourselves with vain flattery or excusing our own vices."
I guess I could quote a little Calvin to the hotel manager in Menominee. Keep working on those breakfasts, but don't apologize for them not being perfect.
It was a good place to stay.