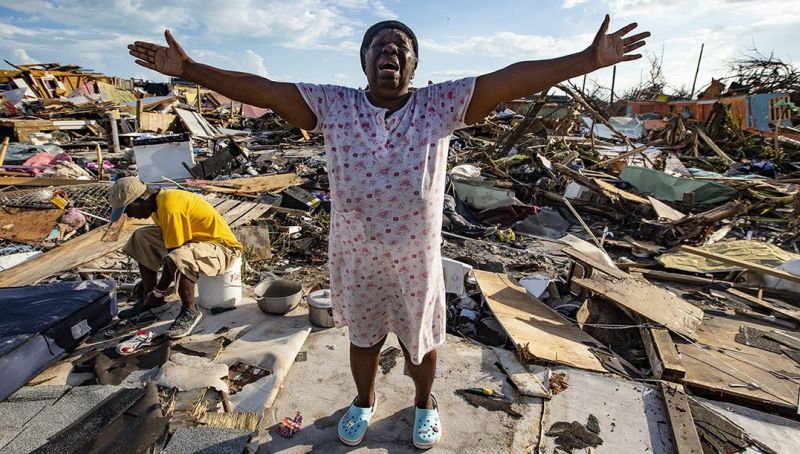 We are just beginning to catch a glimpse of the destruction brought to the Bahamas by Hurricane Dorian.  I can't imagine it.
Thankfully, the world is responding.  Governments, including our own, are sending and promising aid.  Others are organizing relief efforts, as well.  Even some of the cruise lines are collecting money to be used to help alleviate immediate suffering and to begin to rebuild what was destroyed.  Of course, the Red Cross is there and the "big players" among the Christian Relief organizations, World Vision and Samaritan's Purse.  Thank God for all of them.
Yes, stories of corruption, inefficiency, and greed are sure to follow over the next few weeks and months.  Poverty Inc. – there's money to be made in preying on others' loss – will rear its ugly head.
There is something fundamentally human about reaching out to help.  In many ways it simply doesn't matter if the clean drinking water or plastic tarp comes from the UN or World Vision.  Thank God for clean water and plastic tarps freely given.
LPC's response to the devastation done by Dorian, though, is what we might call "niche relief."  Niche relief allows us to do something the big players, important as they are, can't do.  Niche relief, this one small way of helping, is face to face, person to person, one sufferer to the next.
Our Evangelical Presbyterian Church does not operate a permanent relief agency, ready at a moment's notice to send personnel and supplies around the world. Thank God for those who do.  Rather, when, disaster strikes, the EPC asks, "Who do we know, and what do they need?"
The Bahamas are home to three EPC congregations, Saint Andrew's Presbyterian Kirk in Nassau, Kirk of the Pines in Abaco, and another LPC, Lucaya Presbyterian Church in Freeport. As of today, Saint Andrew's and its community appears to less affected than Kirk of the Pines and Lucaya.
So, here's what we will do.  Members of our LPC along with members of hundreds of other EPC congregations will give generously to the Disaster Relief Fund of the EPC.  Just as soon as possible, denominational and presbytery friends will contact our brothers and sisters in the Bahamas and ask, "What do you need?"  The question is critical. Too often well-meaning folk tell the victims of disaster what they need and what they, the well-meaning, intend to do.  That's one of the reasons disaster victims find a thousand stuffed animals sent in cargo space that could have been used for food or water, or why supplies rot on docks when all the roads from the docks to the disaster areas are blocked or clogged with trucks filled with stuffed animals.
Friends in our denomination will ask about the church buildings at Saint Andrew's, Kirk of the Pines, and Lucaya, because church buildings are often places of refuge. We will ask about church members and their friends.  What do they need right now?  We'll find out if later, at the right time, mission teams from EPC congregations might be a help or a hindrance in repairing and rebuilding the homes of congregation and community members.  We'll only go if we are needed.
Based on recent EPC experiences in Florida and Texas, we can expect that some of what we give will go to purchase water and tarps and some will supply drywall and shingles.  We'll send what our friends on the islands tell us they need.
The big players – the UN and the Red Cross, Samaritan's Purse and World Vision – are doing important work right now.  Thank God for all they are doing.
We'll be doing niche mission.  Face to face, person to person, congregation to congregation.  Pray for our fellow EPC members at Saint Andrew's, Kirk of the Pines, and that other LPC.  And, if you are able, give generously to help them out.  They have some needs we can meet.
See you Sunday