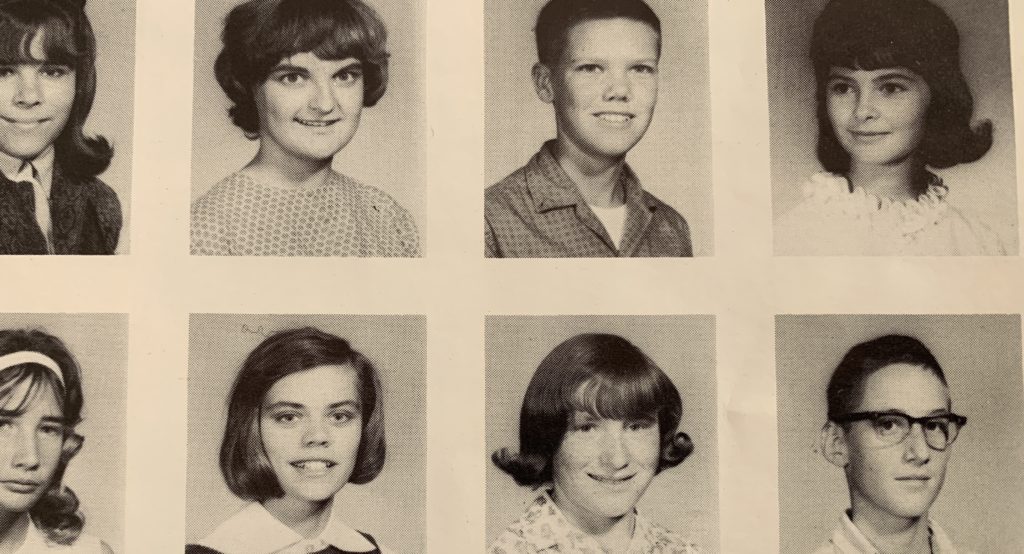 I haven't seen any of the installments in the "Up" series, but I think I will.  The premise, the story told by the series, is this: Every seven years since 1963 film maker Michael Apted has checked in with a group of fourteen now 63-year olds, a random group, all from the U.K., and all seven years old when the series began. The original 1964 film was called "7 Up," the 1970 episode was "14 Up," the 1977 installment "21 Up," and you get the point.  Wikipedia has a long entry on the project. This NPR review of the just-released "63 Up" provides a sense of the series.
The premise of the "Up" films is to test the old Jesuit adage, "Give me a child until he is seven and I will give you the man." As we watch the fourteen grow older and travel through life we wonder, are we essentially who we will be by the time we are seven? In the trailer for "63 Up" one of the fourteen says, "I'm still the same little kid, really. Probably all of us are."
Yeah, I think I'd like to watch the films.
I wonder if I'm still the same little kid, really, I was in 1964. (See my junior high yearbook photo above.)
From what I've read, it appears that Christian faith plays an important role in the lives of a couple of the fourteen. Apparently not so much for most of the others.
Would those who have shaped their lives around a commitment to Christ and his ways agree that at 63 we are the same little kids we were at age seven?  Really. Some of us might file a counterpoint based on Paul's words to the Corinthians, "Therefore, if anyone is in Christ, he is a new creation. The old has passed away; behold, the new has come." (2 Corinthians 5:20)
I don't have a moment-in-time conversion story. It would not be until my "21 Up" episode that I was certain of my effectual calling (See Westminster Confession, Chapter 10). By then I was sure about my relationship with Christ. Hasn't nearly a half-century of living with Christ made me someone other than that same little kid I was at age seven or fourteen? Of course, it has. My standing before our righteous God is altogether different. The old has passed away; behold the new has come! Thanks be to God!
But don't we also know that Peter was impetuous before and after he became a follower of Christ. Wasn't Paul a zealot before and after the Road to Damascus; Moses hesitant and self-doubting. Wasn't Lydia kind and generous before and after she heard the Gospel preached at the riverside outside Philippi?
I'm not exactly sure what they are, but so many of the traits that make me me, that God has used for nearly a half-century, are there in that junior high yearbook photo.
"I'm still the same little kid, really. Probably all of us are." I think this is good news, especially for those of us who have found our new selves in Christ. The transformation of the Christian's life is not toward something foreign, something alien, a zombie-like change. It is a journey to the person, now freed, God intended us to be all along. Peter learns to tame his impetuousness and Paul his zeal. Moses learns confidence and, we might imagine, Lydia's kind generosity is made all the better by an uncompromising commitment to the ways of Christ. But impetuousness, zeal, self-doubt, and generosity remain to be used by God.
John, my best friend in junior high, happens to be a row above me in the yearbook photo.  We'd watch "The Man from U.N.C.L.E." together and sometimes play submarines during math class. I've lost touch with John and did not see the ""The Man from U.N.C.L.E." remake they did a few years ago. The submarines app has nothing on our graph paper version.
Things have changed since 1964. In early 1970, at his appointed and accepted time, God made my call to Christ effectual. All things new. Ever since that same little kid has been on a journey to be more and more the person God created me to be. Really.
See You Sunday