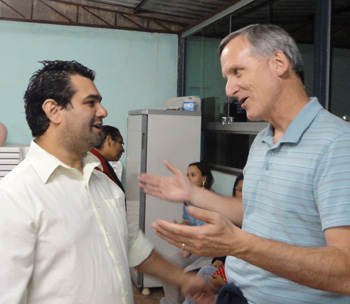 On January 28, 2008, I became the pastor of Langhorne Presbyterian Church having served as pastor of Park Presbyterian Church in Beaver, Pennsylvania, for nearly ten years. Prior to that I was pastor at the First Presbyterian Church of Menominee, Michigan, for five years. I have also served on the staff at Lake Grove Presbyterian Church in Lake Oswego, Oregon, Calvin Crest Conferences near Yosemite National Park, and the First Presbyterian Church in Santa Cruz, California.
I received my undergraduate degree in American History from the University of California at Santa Cruz and an M.Div. from Union Theological Seminary in Virginia.
God has blessed my life in so many ways, and no more deeply than in the gift of my wife, Becky, our three children, three children-in-law and seven wonderful grandchildren.
I came to faith in Jesus Christ in an unremarkable way. I was baptized as an infant and raised by parents and nurtured by a congregation who took their baptismal vows seriously. I was confirmed as a fourteen-year old, giving "as much as I knew about myself to as much as I knew about God." I came to know much more about myself and God during my college years, in particular, and have been coming to know Christ more deeply ever since.
I count it an honor and an awesome responsibility to be able to preach from LPC's pulpit each week. I am honored to have been called to be pastor by this wonderful congregation and I am awed by the task of seeking to faithfully proclaim God's Word week by week.
Among the tasks in ministry that I find most satisfying are leading worship, teaching the Bible and helping people discover the joy of knowing Christ and growing in faith and discipleship.
In over 40 years of ministry God has led me to some pretty amazing places and has allowed me to do some pretty remarkable things. Nothing has had a greater impact on me, nor, I believe, of all that I have done has made greater Kingdom difference than working with the ministry of Igreja Presbiteriana no Jardim América to the people of Favela da Ventosa in Belo Horizonte, Brazil. From time to time you will read more in the lpc e-pistle about the people of Brazil and da Ventosa. It has also been my privilege to be a part of the missional partnership between LPC and Promised Land Ministries in Guatemala.
During my time in Philadelphia Presbytery, I have served on the New Design Task Force and the Executive Presbyter Search Committee. It was a privilege to serve as the moderator of the presbytery in 2016.
Thanks for visiting the lpc e-pistle.
To the glory of God alone,
Bill Teague